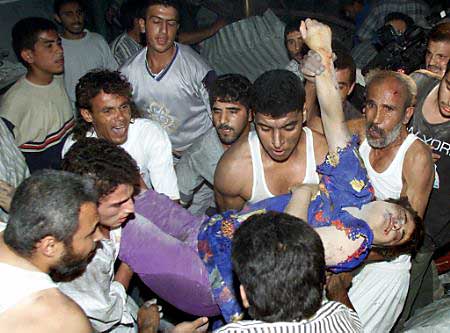 Palestinians fight barrier silently
West Bank towns unite to help save olive groves
`Non-violent' protests slow construction
MITCH POTTER - March 7th, 2004.
BUDRUS, West Bank—When the Israeli backhoes and bulldozers first threatened this picturesque Palestinian hamlet four months ago, the people of Budrus had to think fast.
The heavy machinery, they were told, would soon be scraping clean 1,000 dunams (about 250 acres) of olive groves from the edge of town, clearing a path for the separation barrier to follow.
The town was in shock.
"We knew we had to do something. But we didn't have a lot of time to think about it. It was a crisis," remembers Ayed Morar, 42.
From Budrus to Rantis, faction leaders from the nine Palestinian villages northwest of Jerusalem, whose land was most endangered by the infamous fence, converged for an emergency summit.
Their stark choice: how to fight the seemingly inevitable.
A decision was taken that day that might seem unlikely, given the ferocity of the past 3 1/2years of bloody intifada. The factions agreed to battle with words, not weapons. This corner of the uprising would raise no guns in its war against the Israeli barrier.
So began a campaign of peaceful protest that has made Budrus the talk of the West Bank, with a fame that far exceeds its tiny population of 1,200 people.
The Popular Committee to Resist The Wall was struck, with one representative from each of the nine villages, and Morar was named its leader.
The nearly daily demonstrations that have drawn increasing television coverage in the months since that fateful decision are reminiscent of a more benign intifada, much like the one that played out long before suicide bombs and the aftermath of Sept. 11 turned the conflict on its ear.
Mass rallies saw the whole of Budrus, everyone from toddlers to grandparents, gathering in the targeted fields after daybreak each morning, often staying until sundown.
They linked arms and used their bodies as a human fence against the steel-and-razor wire version trying to plant itself in their place.
The occasional rock is thrown, the occasional rubber-coated steel bullet is fired from the Israeli side.
But despite even the occasional clouds of crowd-dispersing tear gas, the movement spawned at Budrus has the distinct whiff of de-escalation.
"I am so proud of my people," said Morar. "We chose non-violent protest knowing we had to have absolute unity. And we got it. All the people of Budrus are together on this.
"We have come to realize non-violence is the key. The Israelis know well how to use Apache helicopters, planes and tanks. We are no match for them that way. But they don't know how to contend with this."
Budrus claims partial victory to date: the heavy equipment is silent now, as Israeli government planners weigh alternatives to the original plan to fence through the town's olive groves.
The new route, Morar said, is certain to take less of Budrus' land — how much less is not yet known.
On temporary leave from his job as a manager with the Palestinian Authority Interior Ministry, Morar cannot contain his disgust with the lack of support for the rump movement from his own government.
"We started this on our own, but once it got rolling we had support from everywhere," he said. "International protesters have joined us, along with many peace supporters from Israel.
"We even had a member of the Swedish parliament here at one point. But through all that, not a single Palestinian minister has come to see what is happening.
"It is shameful. We ask them for nothing but moral support. And we don't even receive that."
Morar, who is familiar with the teachings of Mahatma Gandhi, said the lack of official Palestinian support underscores the failure of leadership.
"It is a mistake even to say we have an intifada," he said. "What we have is nothing. Our weapons bring us the greatest misery."
Whether the Budrus factor is liable to be embraced beyond this small cluster of West Bank villages is very much in doubt.
Grassroots protest does not come easily to Palestinian politicians, said Palestinian legislator Hanan Ashrawi.
"I have tried to get various senior figures to come down to the checkpoints," Ashrawi said. "But the prevailing attitude is disdain for such an idea."
But Morar said the Budrus movement is nevertheless beginning to trickle out to other communities to the south of Jerusalem that fear facing the future path of the fence as it wends its way south.