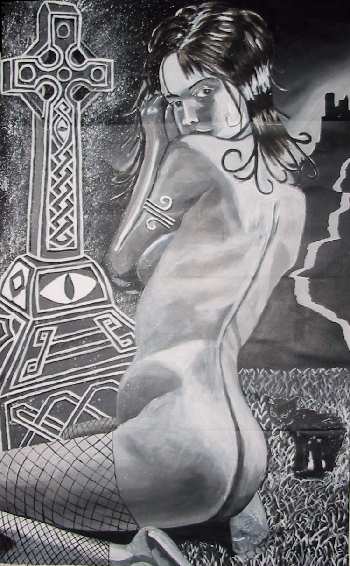 Sexual Blasphemy I, 36 x 58" : 2005
---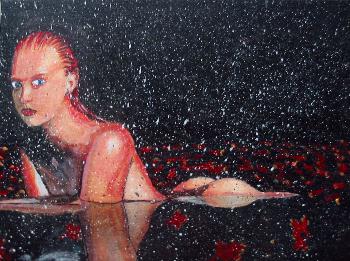 Canadian Water Nymph, 9 x 12" : 2005
---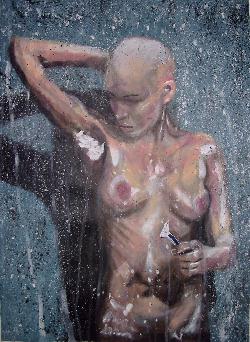 Bald Girl Shaving, 32 x 24" : 2004
---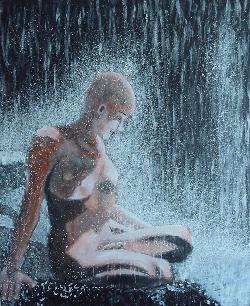 Salmacis in the Rain, 36 x 30" : 2003
---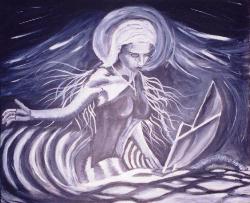 Acts of God?, 24 x 30" : 2001
---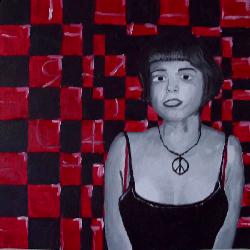 Oil, Blood and Cleavage, Oil on Canvas 30 x 30" : 2003
---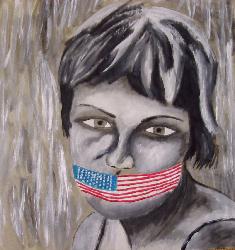 United States Censorship, Acrylic on Canvas 24 x 25" : 2001
---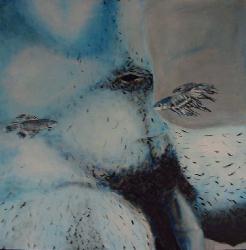 Pacifism, Acrylic on Canvas 30 x 30" : 2002
---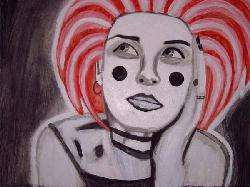 Mirage Painting #1: Thinking, Acrylic on Canvas 20 x 24" : 2001
---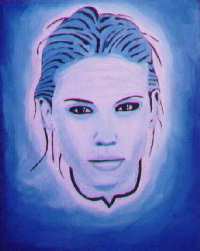 Blue Lilith, Acrylic on Canvas 24 x 30" : 1999
---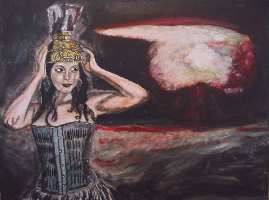 Freudian Explosion, Acrylic on Canvas 24 x 18" : 2002
---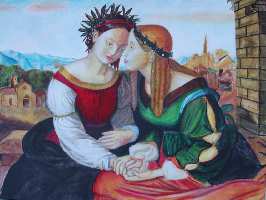 Italy and Germany Reproduction, Acrylic on Canvas 48 x 36" : 2002
---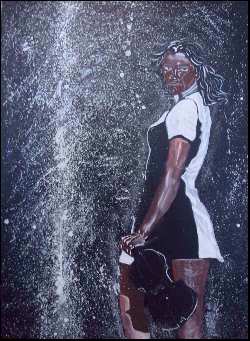 Violinist #2, Acrylic on Canvas 36 x 48" : 2003
---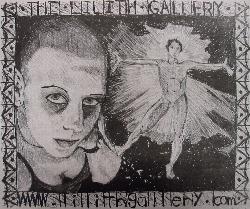 Albion's Androgyny, Ink Lithograph on Japanese Paper 24 x 28" : 2004
---
Charles Alexander Moffat en la Galería de Lilith
Charles Alexander Moffat ist Anstrich für ein sehr langfristiges gewesen. Gleichwohl es interessant sein sollte, daß, beim aufwachsen zu merken, er malen HASSTE. Absolut gehaßt ihm. Die Schulen versahen Kursteilnehmer mit preiswerter Farbe und sogar schlechteren Bürsten. Mit solchen Materialien würde die Farbe nicht die Art des Details und der Verkollkommnung tun, die er tun wollte.
Es war nicht bis highschool, daß er Acrylfarbe und Qualität Bürsten entdeckte, und nicht bis Universität er experimentiert mit ölfarbe. Wenn du die chronologische Verbindung nach links vergleichst, kannst du sehen, wie seine Art und Methoden durch die Jahre weiterkamen.
1997 Moffats experimentierte Primärfokus mit Farbe und Linie. 1998 änderte das ein wenig zum Studieren von portraiture, aber einen Fondness für ungewöhnliche Farben noch zu beibehalten. Die zwölf Gesichter, die 1998 malen, ist ein ausgezeichnetes Beispiel seiner Ermittlung, zum von portraiture zu studieren.
1999 wurden Interessen Moffats bildlicher. Bauchnabel, Beine, Ansätze, Rückseiten der Leute und vollständige Abbildungen. 1999 war auch der Anfang der Lilith Inkarnation Reihe, die in 2000 und in die gelaichten neuen Themen hinsichtlich sind der Gewalttätigkeit, des Geschlechtes, des Feminismus, der Abtreibung und des Gedächtnisses fortfuhr. Er begann auch, mit thematischer Fotographie zu experimentieren.
2001 war jedoch ein sehr produktives Jahr. Sein Interesse an der Fotographie wuchs und er verwies die Reihe "der Alpträume morgens" (und videokunststück) in Zusammenarbeit mit der Melodie, gefolgt vom "Trugbild-ungewöhnlichen Erscheinen 2001". Seine Anstriche fuhren fort, gleichzeitig weiterzukommen, da er auch Wandbilder tat und mit mehr "auf dem Punkt" Anstriche experimentierte; Normalerweise werden seine Anstriche heraus schwer geplant.
2002 war eine Zeit der Reflexion nach dem 11. September. Moffat studierte kunstgeschichte und wendete viel seines Zeitschreibens über Künstler und ihre historischen Bedeutungen auf. Dieses historische Interesse führte ihn jedoch, die Wiedergabe Friedrich Overbecks "von Italien und von Deutschland" zu verursachen. Seine Selbstportraite während 2002 wurden hervorgebracht, indem man Moffat studierte, was seine Art wirklich ist und was in seinen künstlerischen Prozeß miteinbezogen wird. Die Selbstanalyse Reihe ist- mehr über Prozeß als das tatsächliche fertige Stück. Im Herbst Moffat 2002 Penisse, und phallische Symbole ("Pazifismus" und "freudsche Explosion" sehen), für einen Kurzschluß zu malen begonnen, während, Verschlagenheit über Homophobie und androphobia arbeitet. Dieses fuhr kurz in 2003.
2003 re-invented er seine Art mit "Tropfenfänger- und Schlag" Anstrichen (nicht mit Getröpfel" Anstrichen verwirrt werden des Jackson Pollocks "Splatter- und) und verursachte solche Arbeiten wie "Untitled #3", "Salmacis im Regen" und "Violinist #2". Er tat auch 5 Portraits seines Freunds Julie, von denen #1 z.Z. in der Lilith Galerie gezeigt wird. Moffat bewog nach Südkorea im Juli 2003 und fing an, auf 5 neuen Anstrichen, eine Fortsetzung zu arbeiten seiner neuen "Tropfenfänger" Art, und jene Anstriche sollten vorhandenes online zukünftig sein einige Zeit. Während in Korea, bildete er die "Land des Morgen-Friedens" fotographische Reihe, eine Anmerkung zur Schönheit von Korea, aber auch die Möglichkeit vom Krieg mit Nordkorea, wenn die Vereinigten Staaten auf seinem gegenwärtigen warpath der Zerstörung und des ökonomischen Chaos fortfahren. Die Themen in der Fotographie lehnen sich in Richtung zum Pazifismus und zu den Aussichten des Friedens u. des Tranquility.
Moffat 2004 hat das anhaltende Malen und das Tun von mehr Fotographie aber auch begonnen, in der videokunst zu experimentieren. Er hat seit dem eine Vielzahl von videos verursacht und eingeschlossen: "Furcht-Amerikaner #2: Gewehr-Steuerung" und eine Vielzahl anderer "Flickwerkart videos".
Moffat hat diese neuen videokunststücke als Teil eines Künstlerkorbes verursacht, der als "vereinigte Anarchist Künstler" bekannt ist, obgleich er NICHT ein Anarchist ist. Er ist ein frommes pacifist und ist mit der Gruppe "nur prinzipiell" einverstanden, weil er glaubt, daß die Vereinigten Staaten hinunter eine Straße der Zerstörung u. der Unwissenheit vorangehen.
2005 gab Moffat ein videokunststück der viel größeren Skala, "Kernwinter" frei und hat die "Tropfenfänger- und Schlag" Art mit Anstrichen wie der "kanadischen Wasser-Nymphe" fortgesetzt.
Video:
2005
Crop Signs : 2005 - New Movie, 19 MB
Nuclear Winter : 2005 - New Movie, 45 MB

2004
Bang Bang Wonderful Days : 2004 - YouTube.
Fear Americans #1 : 2004 - YouTube.
Fear Americans #2: Gun Control : 2004 - YouTube.
Fear Americans #3: Oil Economics : 2004 - YouTube.
Fear Americans #4: American Life : 2004 - YouTube.
Fear Americans #5: Wolfowitz War Crimes : 2004 - YouTube.
Fear Americans #6: Fear, Hatred & Stupidity : 2004 - YouTube.
Fear Americans #7: Pinky and the Brain : 2004 - YouTube.
Jack is Too Sexy : 2004 - YouTube.
Kill Bill Daddy Cool : 2004 - 5849 KB.
Merry Xmas 2004 : 2004 - YouTube.
Samurai Jack - Hotel California : 2004 - YouTube.
Samurai Jack Meets Wong Fei Hung : 2004 - YouTube.
Samurai Jack - Stayin' Alive : 2004 - YouTube.
The Last Thing You Feel Bub : 2004 - YouTube.

2001
Nightmares in the Morning : 2001 - 2057 KB.