Toronto Website Design &amp Toronto SEO
Annie Naseem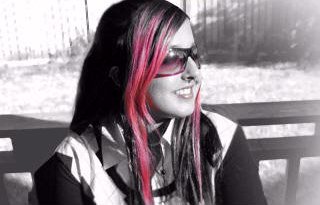 Annie Naseem was born in Pakistan, but was raised in Saudi Arabia and later moved to Canada. She grew up in an American-influenced compound and attended a British school and as such did not experience typical Saudi Arabian life.
Her family later immigrated to Canada where Annie Naseem attended York University in Toronto, Canada where she majored in Mass Communications and Sociology. Her time in university allowed her to explore her artistic side in a more academic atmosphere.
Annie draws from her experiences with Islamic and Western culture to guide her on issues such as gender and organized religion, and tries to reflect those ideas in her artwork.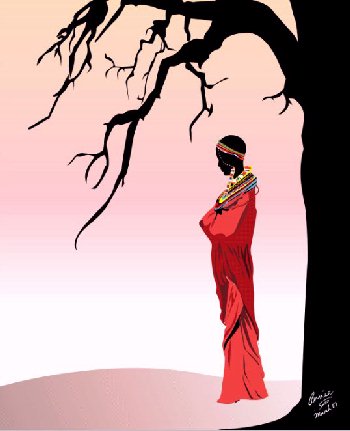 In her final year at university she met the man who would become her husband and they moved to Pakistan for three years. Using the knowledge she had gained in university she started exploring new mediums to express herself. She started a career as a copywriter in Pakistan's advertising industry and developed an interest in graphic design and vector based illustrations, becoming much more serious about artmaking.
While in Pakistan she was also inspired by the variety of textiles and culture of adornment that exists there and began making a series of cloth dolls. Her first show was at the Alliance Francaise of Karachi in January 2006. Months later she exhibited a series of paintings at the Karachi Film Festival.
She returned to Toronto in 2006 and later took part of the Annual Toronto Doll Show in Thornhill (March 2007). Since then she has had numerous magazine articles written about her unusual dolls.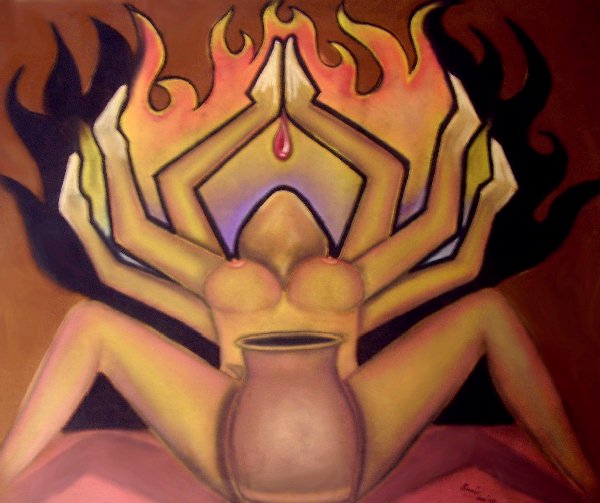 Artist Statement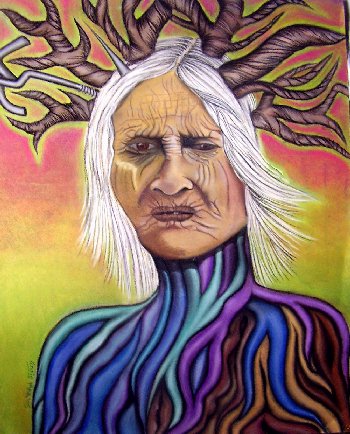 "Like all minds, mine is buzzing with a million thoughts per second – except my thoughts don't rest or die down until they are expressed through some form of creativity. For me, making art is about making my thoughts tangible. I need to be able to touch them in order to put them at ease. On one hand I'm a prisoner and forced to express myself but on the other hand it's a sweet, sweet addiction. I'm constantly chasing that adrenaline rush that comes from capturing an emotion precisely. It's an everlasting tango between being a slave to expression and capturing a feeling…that's the reason I make art.
My work is also about self-discovery and transcendence. I'm constantly looking for new territory because through dealing with new situations, techniques and mediums – I find myself gaining a higher level of self awareness. The themes in my work are also the themes in my life. I have dealt with topics such as the oversexualization of women, expected gender role behaviour and the diversity of womankind. Another significant subject in my artwork is 'organized religion', especially Islam in the post 9/11 world.
My most recent project is my collection of cloth dolls. My stitching abilities sprouted out of the blue while I was living in Pakistan for the past three years. I was inspired by the incredible variety of fabrics available there. It was breathtaking to see how detailed and intricate everything was, how adornment was a part of the culture. During my stay, I was overwhelmed by the sea of open-air bazaars displaying jewels, beads and sequins galore. I knew I had to incorporate this wealth of texture into my work…and from this textile-heaven came the Myth M'annikins, each with their own story. I've never played in the 3 dimensional playground before this – it's been frightening but fun. They are all women of course (staying in line with most of my other work). The Myth M'annkins are strong women from all over the universe who have achieved success in their lives. Through this project I wanted to challenge the understanding we have of 'dolls'…some of them are faceless, one is even divorced. These aren't the kinds of attributes one typically associates with a 'doll'. Breaking and challenging such stereotypes is the main reason I enjoyed exploring this medium."
"My pieces remain untitled in order to encourage a more profound and individual interpretation from the viewer."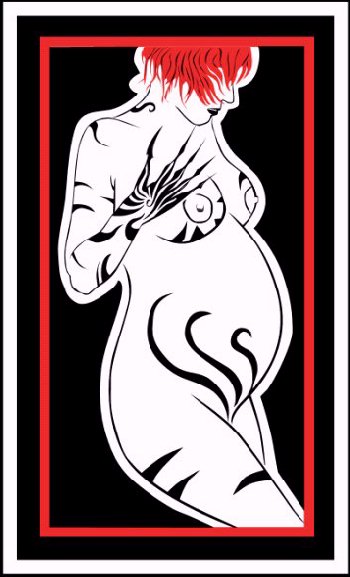 Artworks by Annie Naseem
Untitled Painting (Fire background,Woman with 6 arms) - 2002
Untitled Painting (Old woman with Branches) - 2005
Untitled Painting (Green with reflective plastic) - 2005
Untitled Gothic Greeting Card (Gothic Mermaid) - 2007
Untitled Gothic Greeting Card (Girl with Pink eyelids) - 2007
Untitled Illustration (Asian woman with butterflies) - 2006
Untitled Illustration (2 Pink women with visible spinal chord and tail) - 2006
Untitled Illustration (Woman with frog legs) - 2005
Untitled Illustration (Woman with octopus tentacles) - 2005
Untitled Illustration (Pregnant woman with claw) - 2006
Untitled Illustration (African Masai woman) - 2007
Untitled Illustration (Trees reflected in water) - 2006