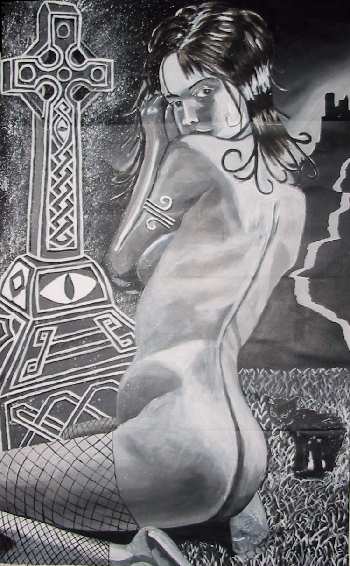 Sexual Blasphemy I, 36 x 58" : 2005
---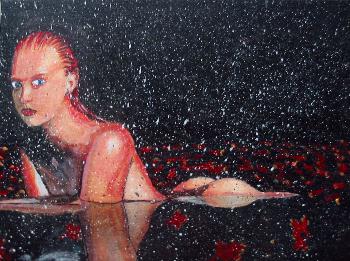 Canadian Water Nymph, 9 x 12" : 2005
---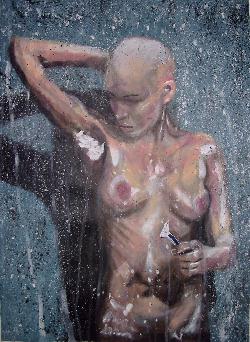 Bald Girl Shaving, 32 x 24" : 2004
---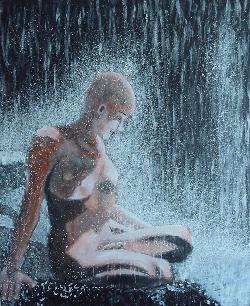 Salmacis in the Rain, 36 x 30" : 2003
---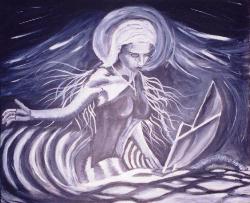 Acts of God?, 24 x 30" : 2001
---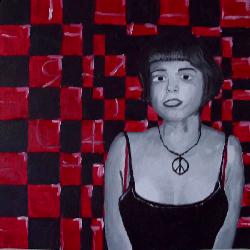 Oil, Blood and Cleavage, Oil on Canvas 30 x 30" : 2003
---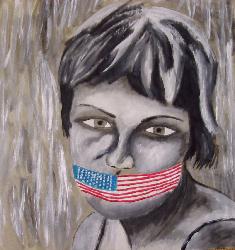 United States Censorship, Acrylic on Canvas 24 x 25" : 2001
---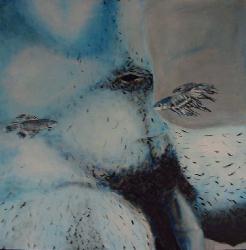 Pacifism, Acrylic on Canvas 30 x 30" : 2002
---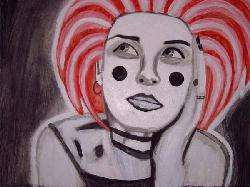 Mirage Painting #1: Thinking, Acrylic on Canvas 20 x 24" : 2001
---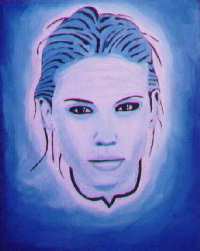 Blue Lilith, Acrylic on Canvas 24 x 30" : 1999
---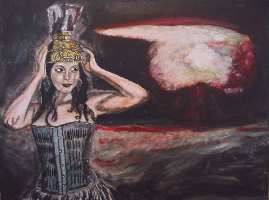 Freudian Explosion, Acrylic on Canvas 24 x 18" : 2002
---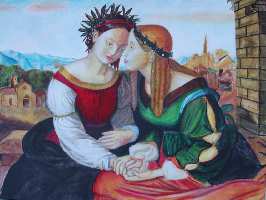 Italy and Germany Reproduction, Acrylic on Canvas 48 x 36" : 2002
---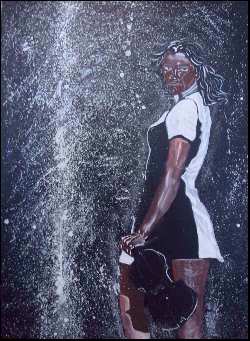 Violinist #2, Acrylic on Canvas 36 x 48" : 2003
---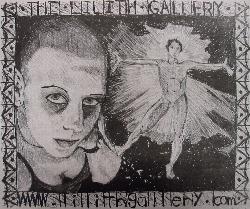 Albion's Androgyny, Ink Lithograph on Japanese Paper 24 x 28" : 2004
---
Charles Alexander Moffat en la Galería de Lilith
Charles Alexander Moffat ha sido pintura por un tiempo muy largo. No obstante debe ser interesante observar que mientras que crecía para arriba, él ODIÓ pintar. Absolutamente odiado le. Las escuelas proveieron de estudiantes la pintura barata e incluso cepillos peores. Con tales materiales, la pintura no haría la clase de detalle y de perfección que él deseó hacer.
No era hasta highschool que él descubrió cepillos de la pintura de acrílico y de la alta calidad, y no hasta universidad él experimenta con la pintura de aceite. Si usted compara el acoplamiento cronológico a la izquierda, usted puede ver cómo su estilo y métodos progresaron en los años.
En 1997, el foco primario de Moffat experimentaba con color y la línea. En 1998, eso cambió algo a estudiar portraiture, pero todavía a mantener un cariño para los colores inusuales. Las doce caras que pintan en 1998 son un ejemplo excelente de su determinación para estudiar portraiture.
En 1999, los intereses de Moffat llegaron a ser más figurados. Botones de vientre, piernas, cuellos, partes posterioras de la gente y figuras enteras. 1999 era también el principio de la serie de la encarnación de Lilith que continuó en 2000 y nuevos temas frezados referentes violencia, sexo, feminismo, el aborto, y a la memoria. Él también comenzó a experimentar con fotografía temática.
2001 sin embargo era un año muy productivo. Su interés en fotografía creció y él dirigió las "pesadillas por la serie de la mañana" (y el pedazo video del arte) en la cooperación con la melodía, seguida por "la demostración anormal 2001 del espejismo". Sus pinturas continuaron progresando en el mismo tiempo, pues él también hizo murals y experimentó con más "sobre el terreno las pinturas"; Sus pinturas se planean normalmente hacia fuera pesadamente.
2002 era una época de la reflexión después de la historia estudiada Moffat del arte de septiembre del 11t y pasada mucha de su escritura del tiempo sobre artistas y sus significados históricos. Este interés histórico sin embargo lo condujo a crear la reproducción de "Italia y de Alemania" de Friedrich Overbeck. Sus retratos del uno mismo durante 2002 fueron causados estudiando de Moffat cuál es su estilo realmente y qué está implicada en su proceso artístico. La serie del análisis del uno mismo es más sobre proceso que el pedazo acabado real. En el otoño Moffat 2002 comenzado a pintar los penes y los símbolos phallic (véase "Pacifism" y la "explosión freudian") para un cortocircuito mientras que, la astucia trabaja sobre homophobia y androphobia. Esto continuó brevemente en 2003.
En 2003, él reinventó su estilo con las pinturas del "goteo y de la película" (no ser confundido con del regate del pollock de Jackson las pinturas de la "salpicadura y") y creó los trabajos tales como "Untitled # 3", "Salmacis en la lluvia" y el "Violinista # 2". Él también hizo 5 retratos de su amigo Julia, de los cuales #1 se demuestra actualmente en la galería de Lilith. Moffat se movió a Corea del sur en julio de 2003 y comenzó a trabajar en 5 nuevas pinturas, una continuación de su nuevo estilo del "goteo", y esas pinturas deben ser accesibles en línea una cierta hora en el futuro. Mientras que en Corea, él hizo "tierra la serie fotográfica de la paz de la mañana", un comentario sobre la belleza de Corea, pero también la posibilidad de guerra con Corea del norte si los Estados Unidos continúan en su warpath actual de la destrucción y del caos económico. Los temas en la fotografía se inclinan hacia pacifism y las perspectivas de la paz y de la tranquilidad.
En Moffat 2004 pintar continuado y hacer más fotografía pero también ha comenzado a experimentar en el arte video. Él tiene desde creó una variedad de videos, incluyendo: "Americanos Del Miedo # 2: Control del arma "y una variedad de otros" videos del pastiche-estilo ".
Moffat ha creado estos nuevos pedazos video del arte como parte de un tonel de los artistas conocido como "artistas unidos del anarquista", aunque él no es un anarquista. Él es un pacifist devoto y conviene con el grupo ' solamente en principio ' porque él se siente que los Estados Unidos están dirigiendo abajo de un camino de la destrucción y de la ignorancia.
En 2005, Moffat lanzó un pedazo video del arte de una escala mucho más grande, "invierno nuclear" y ha continuado el estilo del ' goteo y de la película ' con las pinturas tales como la "ninfa canadiense del agua".
Video:
2005
Crop Signs : 2005 - New Movie, 19 MB
Nuclear Winter : 2005 - New Movie, 45 MB

2004
Bang Bang Wonderful Days : 2004 - YouTube.
Fear Americans #1 : 2004 - YouTube.
Fear Americans #2: Gun Control : 2004 - YouTube.
Fear Americans #3: Oil Economics : 2004 - YouTube.
Fear Americans #4: American Life : 2004 - YouTube.
Fear Americans #5: Wolfowitz War Crimes : 2004 - YouTube.
Fear Americans #6: Fear, Hatred & Stupidity : 2004 - YouTube.
Fear Americans #7: Pinky and the Brain : 2004 - YouTube.
Jack is Too Sexy : 2004 - YouTube.
Kill Bill Daddy Cool : 2004 - 5849 KB.
Merry Xmas 2004 : 2004 - YouTube.
Samurai Jack - Hotel California : 2004 - YouTube.
Samurai Jack Meets Wong Fei Hung : 2004 - YouTube.
Samurai Jack - Stayin' Alive : 2004 - YouTube.
The Last Thing You Feel Bub : 2004 - YouTube.

2001
Nightmares in the Morning : 2001 - 2057 KB.