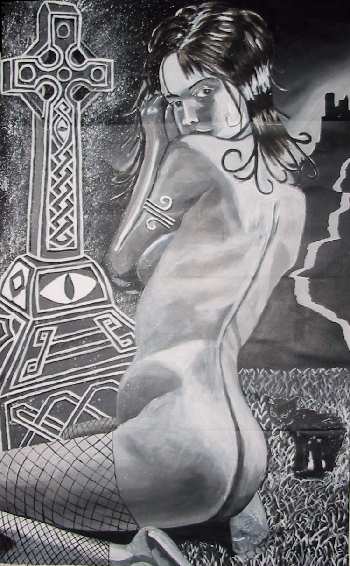 Sexual Blasphemy I, 36 x 58" : 2005
---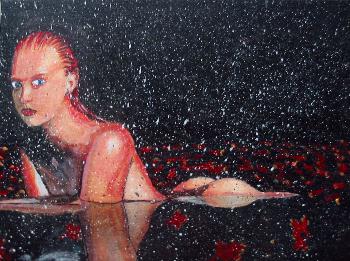 Canadian Water Nymph, 9 x 12" : 2005
---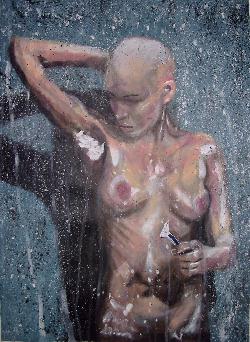 Bald Girl Shaving, 32 x 24" : 2004
---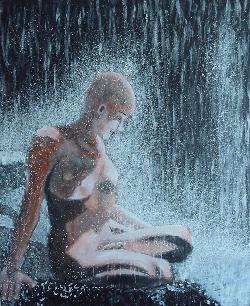 Salmacis in the Rain, 36 x 30" : 2003
---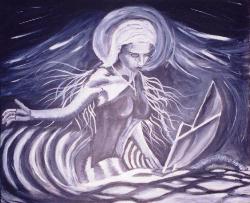 Acts of God?, 24 x 30" : 2001
---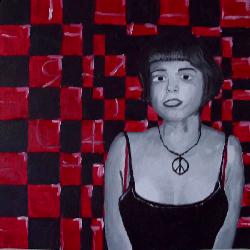 Oil, Blood and Cleavage, Oil on Canvas 30 x 30" : 2003
---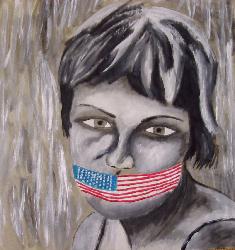 United States Censorship, Acrylic on Canvas 24 x 25" : 2001
---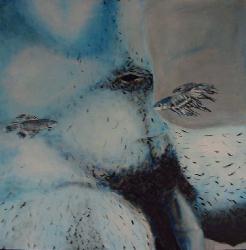 Pacifism, Acrylic on Canvas 30 x 30" : 2002
---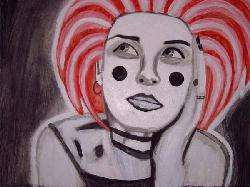 Mirage Painting #1: Thinking, Acrylic on Canvas 20 x 24" : 2001
---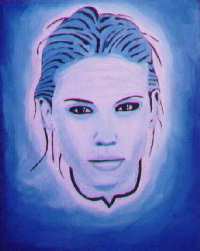 Blue Lilith, Acrylic on Canvas 24 x 30" : 1999
---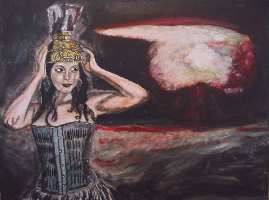 Freudian Explosion, Acrylic on Canvas 24 x 18" : 2002
---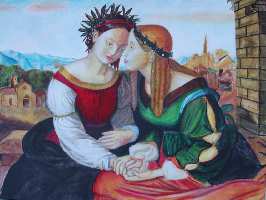 Italy and Germany Reproduction, Acrylic on Canvas 48 x 36" : 2002
---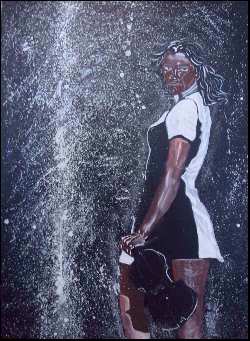 Violinist #2, Acrylic on Canvas 36 x 48" : 2003
---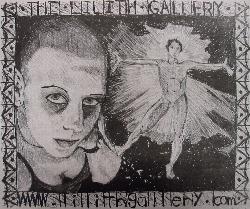 Albion's Androgyny, Ink Lithograph on Japanese Paper 24 x 28" : 2004
---
Charles Alexander Moffat en la Galería de Lilith
Charles Alexander Moffat a été la peinture pour très un à long terme. Toutefois il devrait être intéressant de noter que tout en grandissant, il A DÉTESTÉ peindre. Absolument détesté lui. Les écoles ont fourni à des étudiants la peinture bon marché et encore les plus mauvaises brosses. Avec de tels matériaux, la peinture ne ferait pas le genre de détail et de perfection qu'il a voulu faire.
Ce n'était pas jusqu'au highschool qu'il a découvert les brosses acryliques de peinture et de qualité, et pas jusqu'à l'université il expérimentent avec la peinture à l'huile. Si vous comparez le lien chronologique vers la gauche, vous pouvez voir comment son modèle et méthodes ont progressé au cours des années.
En 1997, le foyer primaire de Moffat expérimentait avec la couleur et la ligne. En 1998, cela a changé légèrement en étudier l'art du portrait, mais maintenir toujours un penchant pour des couleurs peu communes. Les douze visages peignant en 1998 est un excellent exemple de sa détermination pour étudier l'art du portrait.
En 1999, les intérêts de Moffat sont devenus plus figuratifs. Boutons de ventre, jambes, cous, dos des personnes et figures entières. 1999 était également le commencement de la série d'incarnation de Lilith qui a continué dans 2000 et nouveaux thèmes engendrés au sujet de violence, de sexe, de féminisme, d'avortement, et de mémoire. Il a également commencé à expérimenter avec la photographie thématique.
2001 cependant étaient une année très productive. Son intérêt pour la photographie s'est développé et il a dirigé des « cauchemars la série matin » (et le morceau visuel d'art) en coopération avec la mélodie, suivie « de l'exposition 2001 anormale de mirage ». Ses peintures ont continué à progresser en même temps, car il a également fait des muraux et a expérimenté avec plus des peintures « sur tache » ; Normalement ses peintures sont projetées dehors fortement.
2002 étaient un moment de réflexion après le 11 septembre. Moffat a étudié l'histoire d'art et a dépensé beaucoup de son écriture de temps au sujet des artistes et de leurs significations historiques. Cet intérêt historique l'a cependant mené à créer la reproduction de la « Italie et Allemagne » de Friedrich Overbeck. Ses autoportraits pendant les 2002 ont été provoqués par étudier de Moffat ce qui est vraiment son modèle et ce qui est impliqué dans son processus artistique. La série d'auto-analyse est plus au sujet du processus que le morceau fini réel. En automne Moffat 2002 commencé peindre des pénis et des symboles phalliques (voir le « pacifisme » et « l'explosion freudienne ») pour un short tandis que, l'adresse fonctionne au sujet de la homophobie et de l'androphobia. Ceci a continué brièvement dans 2003.
En 2003, il a réinventé son modèle avec des peintures de « égouttement et de chiquenaude » (ne pas être confondu avec de ruissellement du Pollock de Jackson des peintures de « éclaboussure et ») et a créé des travaux tels que « Untitled #3 », « Salmacis sous la pluie » et « Violinist #2 ». Il a également fait 5 portraits de son ami Julie, dont #1 est actuellement montré dans la galerie de Lilith. Moffat s'est déplacé en Corée du Sud en juillet 2003 et a commencé à travailler à 5 nouvelles peintures, une suite de son nouveau modèle de « égouttement », et ces peintures devraient être accessibles en ligne une certaine heure à l'avenir. Tandis qu'en Corée, il a fait « terre la série photographique de matin de paix », un commentaire sur la beauté de la Corée, mais également la possibilité de la guerre avec la Corée du Nord si les Etats-Unis continuent sur son warpath courant de destruction et de chaos économique. Les thèmes dans la photographie se penchent vers le pacifisme et les perspectives de la paix et de la tranquilité.
En Moffat 2004 peindre continué et faire plus de photographie mais également a commencé à expérimenter dans l'art visuel. Il a depuis créé une variété de videos, incluant : « Américains #2 de crainte : Commande de pistolet » et une variété d'autres « videos de pastiche-modèle ».
Moffat a créé ces nouveaux morceaux visuels d'art en tant qu'élément d'une cage d'artistes connue sous le nom de « artistes unis d'anarchiste », bien qu'il ne soit pas un anarchiste. Il est un pacifiste dévot et est d'accord avec le groupe « seulement en principe » parce qu'il se sent que les Etats-Unis se dirigent en bas d'une route de destruction et d'ignorance.
En 2005, Moffat a libéré un morceau visuel d'art à grande échelle beaucoup, « hiver nucléaire » et a continué le modèle de « égouttement et de chiquenaude » avec des peintures telles que « la nymphe canadienne de l'eau ».
Video:
2005
Crop Signs : 2005 - New Movie, 19 MB
Nuclear Winter : 2005 - New Movie, 45 MB

2004
Bang Bang Wonderful Days : 2004 - YouTube.
Fear Americans #1 : 2004 - YouTube.
Fear Americans #2: Gun Control : 2004 - YouTube.
Fear Americans #3: Oil Economics : 2004 - YouTube.
Fear Americans #4: American Life : 2004 - YouTube.
Fear Americans #5: Wolfowitz War Crimes : 2004 - YouTube.
Fear Americans #6: Fear, Hatred & Stupidity : 2004 - YouTube.
Fear Americans #7: Pinky and the Brain : 2004 - YouTube.
Jack is Too Sexy : 2004 - YouTube.
Kill Bill Daddy Cool : 2004 - 5849 KB.
Merry Xmas 2004 : 2004 - YouTube.
Samurai Jack - Hotel California : 2004 - YouTube.
Samurai Jack Meets Wong Fei Hung : 2004 - YouTube.
Samurai Jack - Stayin' Alive : 2004 - YouTube.
The Last Thing You Feel Bub : 2004 - YouTube.

2001
Nightmares in the Morning : 2001 - 2057 KB.