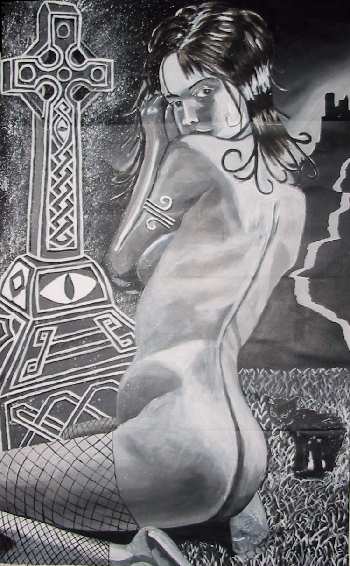 Sexual Blasphemy I, 36 x 58" : 2005
---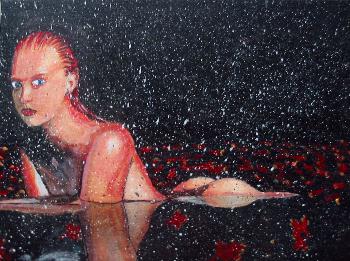 Canadian Water Nymph, 9 x 12" : 2005
---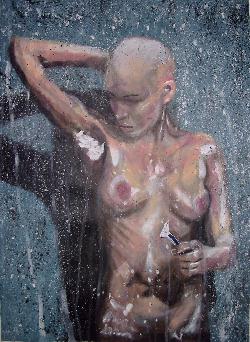 Bald Girl Shaving, 32 x 24" : 2004
---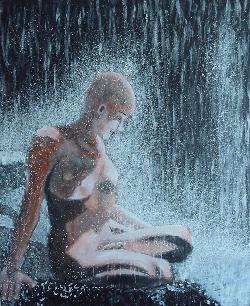 Salmacis in the Rain, 36 x 30" : 2003
---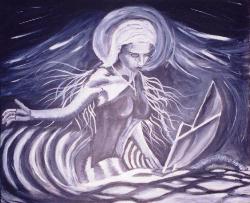 Acts of God?, 24 x 30" : 2001
---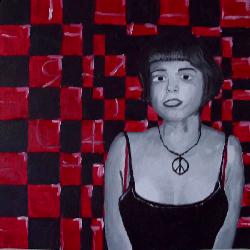 Oil, Blood and Cleavage, Oil on Canvas 30 x 30" : 2003
---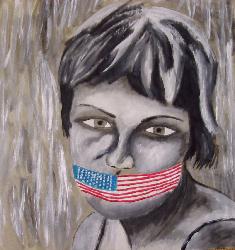 United States Censorship, Acrylic on Canvas 24 x 25" : 2001
---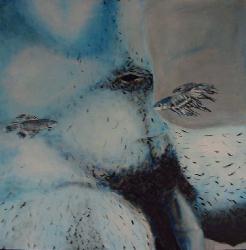 Pacifism, Acrylic on Canvas 30 x 30" : 2002
---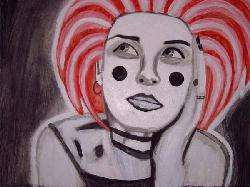 Mirage Painting #1: Thinking, Acrylic on Canvas 20 x 24" : 2001
---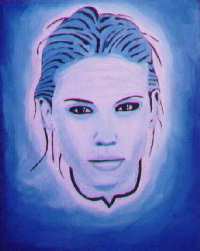 Blue Lilith, Acrylic on Canvas 24 x 30" : 1999
---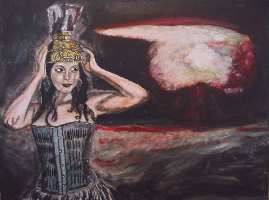 Freudian Explosion, Acrylic on Canvas 24 x 18" : 2002
---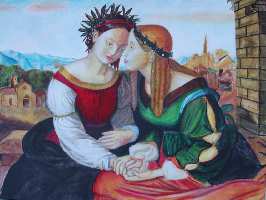 Italy and Germany Reproduction, Acrylic on Canvas 48 x 36" : 2002
---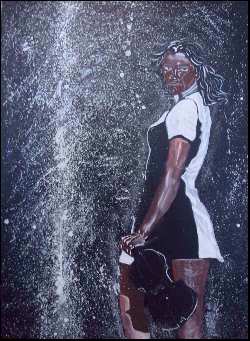 Violinist #2, Acrylic on Canvas 36 x 48" : 2003
---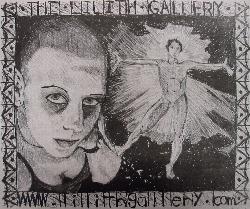 Albion's Androgyny, Ink Lithograph on Japanese Paper 24 x 28" : 2004
---
Charles Alexander Moffat è stata la pittura per un tempo molto molto. Comunque dovrebbe essere interessante notare che mentre cresceva in su, ODIAVA verniciare. Assolutamente odiato esso. Le scuole hanno fornito agli allievi vernice poco costosa e perfino le spazzole più difettose. Con tali materiali, la vernice non farebbe il genere di particolare e di perfezione che desiderasse fare.
Non era fino al highschool che ha scoperto le spazzole acriliche di alta qualità e della vernice e non fino all'università lui sperimenta con la pittura ad olio. Se confrontate il collegamento cronologico il a sinistra, potete vedere come il suoi stile e metodi hanno progredito con gli anni.
In 1997, il fuoco primario del Moffat stava sperimentando con colore e la linea. In 1998, quello è cambiato piuttosto allo studiare il portraiture, ma ancora ad effettuare un fondness per i colori insoliti. Le dodici facce che verniciano in 1998 è un esempio eccellente della sua determinazione per studiare il portraiture.
In 1999, gli interessi del Moffat sono diventato più figurati. Tasti di pancia, piedini, colli, parti posteriori della gente e figure intere. 1999 era inoltre l'inizio della serie di Incarnation di Lilith che è continuato in 2000 e nei nuovi temi deposti le uova riguardo alla violenza, al sesso, al feminism, all'aborto ed alla memoria. Inoltre ha cominciato sperimentare con fotographia tematica.
2001 tuttavia era un anno molto produttivo. Il suo interesse nella fotographia si è sviluppato ed ha diretto "la serie di incubi di mattina" (e la video parte di arte) in collaborazione con melodia, seguita "dall'esposizione strana 2001 di Mirage". Le sue pitture hanno continuato a progredire allo stesso tempo, poichè inoltre ha fatto i murals ed ha sperimentato con più "pitture su punto"; Le sue pitture sono progettate normalmente pesante fuori.
2002 era un momento della riflessione dopo l'11 settembre. Moffat ha studiato la storia di arte ed ha speso molta della sua scrittura di tempo circa gli artisti ed i loro significati storici. Questo interesse storico tuttavia lo ha condotto generare la riproduzione "dell'Italia e della Germania" del Friedrich Overbeck. I suoi ritratti di auto durante i 2002 sono stati determinati studiando del Moffat che cosa il suo stile realmente è e che cosa è coinvolto nel suo processo artistico. La serie di analisi di auto è più circa il processo che la parte rifinita reale. in autunno Moffat 2002 iniziato a verniciare i penises ed i simboli phallic (vedere "Pacifism" e "l'esplosione Freudian") per uno short mentre, l'astuzia funziona circa homophobia e il androphobia. Ciò è continuato brevemente in 2003.
In 2003, ha reinventato il suo stile con "le pitture di flick e del gocciolamento" (non essere confuso con di goccia del Pollock de Jackson "le pitture e dello splatter") ed ha generato tali impianti come "Untitled #3", "Salmacis nella pioggia" e "Violinist #2". Inoltre ha fatto 5 ritratti del suo amico Julie, di cui #1 attualmente è indicato nella galleria di Lilith. Moffat si è mosso in Corea del sud nel luglio 2003 ed ha cominciato lavorare a 5 nuove pitture, una continuazione del suo nuovo stile "del gocciolamento" e quelle pitture dovrebbero essere accessibili in linea un certo tempo in avvenire. Mentre in Corea, ha fatto "terra la serie fotografica di pace di mattina", un commento sulla bellezza della Corea, ma anche la possibilità della guerra con il Korea di Nord se gli Stati Uniti continuano sul relativo warpath corrente di distruzione e di caos economico. I temi nella fotographia si appoggiano a verso il pacifism ed i prospetti di pace & di tranquility.
In Moffat 2004 la verniciatura continuata e fare della più fotographia ma inoltre hanno cominciato sperimentare nella video arte. Da allora ha generato una varietà di videos, includente: "Americani #2 di timore: Controllo della pistola" e una varietà di altri "videos di pastiche-stile".
Moffat ha generato queste nuove video parti di arte come componente di una gabbia degli artisti conosciuta come "gli artisti uniti dell'anarchico", anche se non è un anarchico. È un pacifist devout e accosente con il gruppo "soltanto in linea di principio" perché ritiene che gli Stati Uniti capo giù una strada di distruzione & dell'ignoranza.
In 2005, Moffat ha liberato una video parte di arte della scala molto più grande, "inverno nucleare" ed ha continuato "lo stile di flick e del gocciolamento" con le pitture quale "la crisalide canadese dell'acqua".
Video:
2005
Crop Signs : 2005 - New Movie, 19 MB
Nuclear Winter : 2005 - New Movie, 45 MB

2004
Bang Bang Wonderful Days : 2004 - YouTube.
Fear Americans #1 : 2004 - YouTube.
Fear Americans #2: Gun Control : 2004 - YouTube.
Fear Americans #3: Oil Economics : 2004 - YouTube.
Fear Americans #4: American Life : 2004 - YouTube.
Fear Americans #5: Wolfowitz War Crimes : 2004 - YouTube.
Fear Americans #6: Fear, Hatred & Stupidity : 2004 - YouTube.
Fear Americans #7: Pinky and the Brain : 2004 - YouTube.
Jack is Too Sexy : 2004 - YouTube.
Kill Bill Daddy Cool : 2004 - 5849 KB.
Merry Xmas 2004 : 2004 - YouTube.
Samurai Jack - Hotel California : 2004 - YouTube.
Samurai Jack Meets Wong Fei Hung : 2004 - YouTube.
Samurai Jack - Stayin' Alive : 2004 - YouTube.
The Last Thing You Feel Bub : 2004 - YouTube.

2001
Nightmares in the Morning : 2001 - 2057 KB.