Toronto Website Design &amp Toronto SEO
Joelle Circe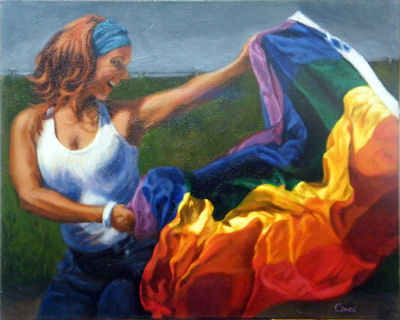 Joelle Circé is a guest artist at the Lilith Gallery. Her work is a blend of feminism/queer life and erotica. She trained in a private art school in Montreal in the early eighties. She is inspired by women artists and all sisters but does acknowledge her traditional fine art training in regards to technical expertise. She draws on women's lived experiences, from taboo topics like abuse and erotica to her own personal life as a woman of transexual origin and how this aspect of her has influenced her gaze.
"The focus of my art is on such themes as abuse and oppression, women's vulvas as inspired by the Vagina Monologues / The Dinner Party and yes, Georgia O'Keefe's flowers, sexism, gender identity, erotica, body image, women's rights, queer life, and on occasion, some vampiristic painting imbued with the erotic." - Joelle Circé, 2012.
Joelle has shown her works in various International Erotic Art Festivals and Shows in Montreal, Toronto, Ottawa, New York and Detroit. Her art has also been showcased at the EstroGenius Art Festival in the Manhattan Source Theatre in New York in 2011 as well as a three month duo showing at the Leslie-Lohman Museum of Gay and Lesbian Art ( Soho, New York, November 2011 to February 15th, 2012 ).
She delves into topics that are near and dear to her as a woman first and foremost and this includes her being a woman loving woman and one of transexual origin. She paints in oils on canvas and does not shy away from creating provocative pieces. Joelle presently lives in Ontario, Canada.
Official Website: www.circesart.com
Contact Info: joelle@circesart.com
The titles of her works are listed below in both Alphabetical and Chronological order.
Alphabetical listing of Art by Joelle Circé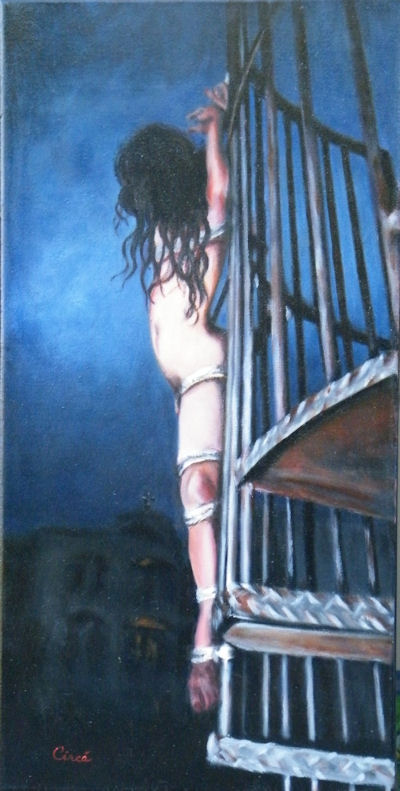 Bound in Ecstasy, oil on canvas, 30in, x 40in., 2008
Break, oil on canvas, 30in. X 40in., 2012
Breaking free, oil on canvas, 16in. X 20in., 2010
Damned, oil on canvas, 12in. X 24in., 2009
Danaë, invitation to love, oil on canvas, 2011
Dark Desire, oil on canvas, 18in. X 18in., 2010
Excision, oil on canvas, 9in. X 12in., 2007
Food for thought, oil on canvas, 20in. X 30in., 2007
Herpower, oil on canvas, 12in. X 24in., 2009
If my vagina got dressed, she would wear… , oil on canvas, 16in. X 20in., 2007
Mirror-mirror, oil on canvas, 14in. X 22in., 2010
Night's sweet reward, oil on canvas, 16in. X 20in., 2009
Parody, oil on canvas, 18in. X 24in., 2011
Peek-a-Boo, oil on canvas, 36in. X 48in., 2009
Private Dancer, oil on canvas, 24in. X 36in., 2009
Red Light, oil on canvas, 24in. X 36in., 2010
Rope Play, oil on canvas, 24in. X 36in., 2011
Shut up and be pretty, sanguine, charcoal and pastel on paper, 17in. X 25in., 2010
Strap-on cheers, oil on canvas, 11in. X 14in., 2011
Tanguero, oil on canvas, 20in. X 28in., 2011
The Pole Man, oil on canvas, 20in. X 40in., 2011
Under the Armor, female masculinity, oil on canvas, 12in. X 24in., 2007
Waving Pride, oil on canvas, 16in. X 20in., 2012
Yellow Wallpaper, oil on canvas, 24in. X 36in., 2011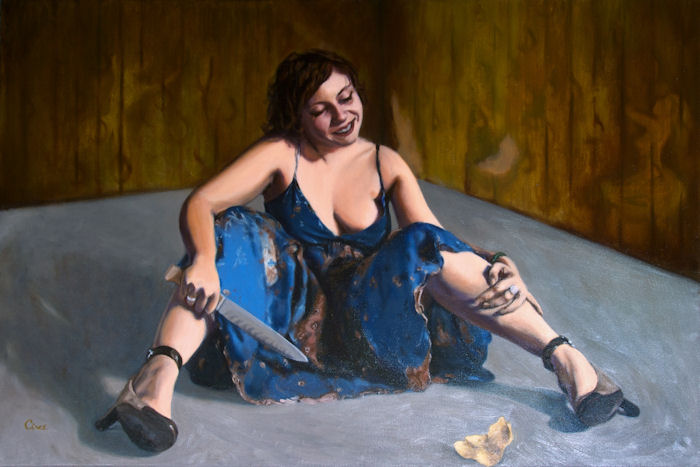 Chronological listing of Art by Joelle Circé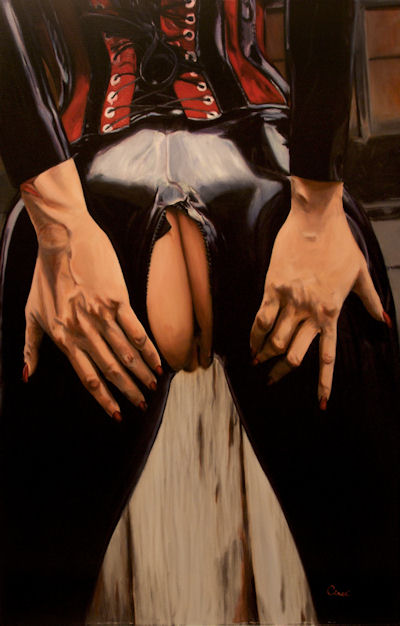 Excision, oil on canvas, 9in. X 12in., 2007
Food for thought, oil on canvas, 20in. X 30in., 2007
If my vagina got dressed, she would wear… , oil on canvas, 16in. X 20in., 2007
Under the Armor, female masculinity, oil on canvas, 12in. X 24in., 2007
Bound in Ecstasy, oil on canvas, 30in, x 40in., 2008
Damned, oil on canvas, 12in. X 24in., 2009
Herpower, oil on canvas, 12in. X 24in., 2009
Night's sweet reward, oil on canvas, 16in. X 20in., 2009
Peek-a-Boo, oil on canvas, 36in. X 48in., 2009
Private Dancer, oil on canvas, 24in. X 36in., 2009
Breaking free, oil on canvas, 16in. X 20in., 2010
Dark Desire, oil on canvas, 18in. X 18in., 2010
Mirror-mirror, oil on canvas, 14in. X 22in., 2010
Red Light, oil on canvas, 24in. X 36in., 2010
Shut up and be pretty, sanguine, charcoal and pastel on paper, 17in. X 25in., 2010
Danaë, invitation to love, oil on canvas, 2011
Parody, oil on canvas, 18in. X 24in., 2011
Rope Play, oil on canvas, 24in. X 36in., 2011
Strap-on cheers, oil on canvas, 11in. X 14in., 2011
Tanguero, oil on canvas, 20in. X 28in., 2011
The Pole Man, oil on canvas, 20in. X 40in., 2011
Yellow Wallpaper, oil on canvas, 24in. X 36in., 2011
Break, oil on canvas, 30in. X 40in., 2012
Waving Pride, oil on canvas, 16in. X 20in., 2012