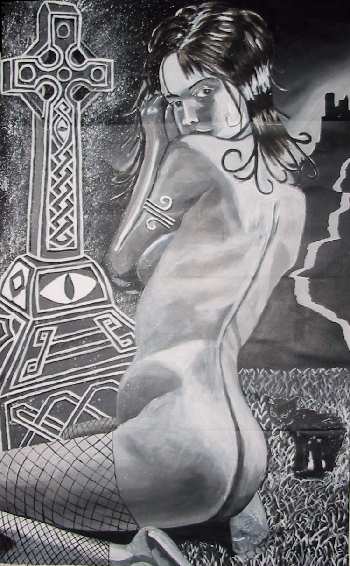 Sexual Blasphemy I, 36 x 58" : 2005
---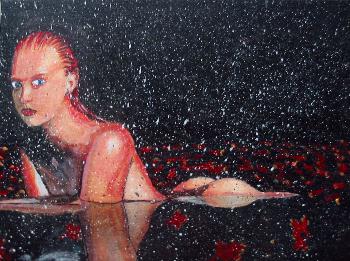 Canadian Water Nymph, 9 x 12" : 2005
---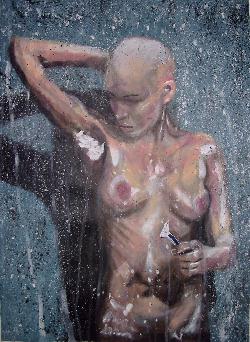 Bald Girl Shaving, 32 x 24" : 2004
---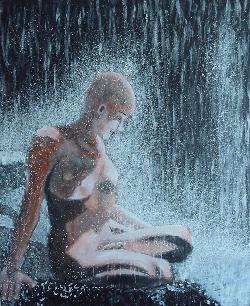 Salmacis in the Rain, 36 x 30" : 2003
---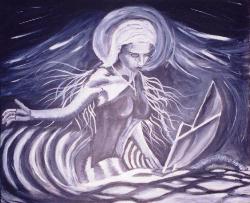 Acts of God?, 24 x 30" : 2001
---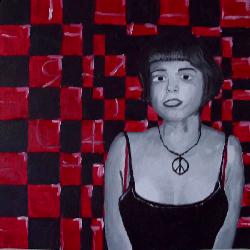 Oil, Blood and Cleavage, Oil on Canvas 30 x 30" : 2003
---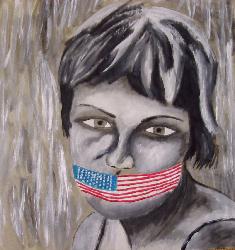 United States Censorship, Acrylic on Canvas 24 x 25" : 2001
---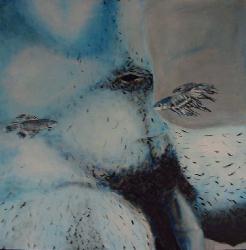 Pacifism, Acrylic on Canvas 30 x 30" : 2002
---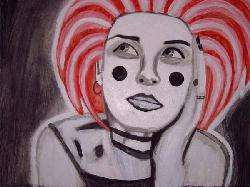 Mirage Painting #1: Thinking, Acrylic on Canvas 20 x 24" : 2001
---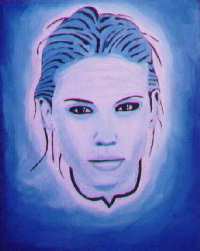 Blue Lilith, Acrylic on Canvas 24 x 30" : 1999
---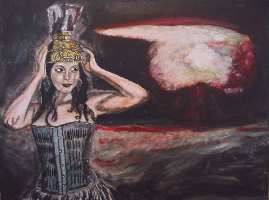 Freudian Explosion, Acrylic on Canvas 24 x 18" : 2002
---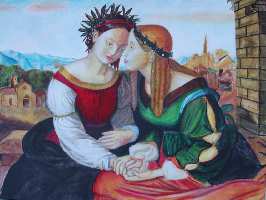 Italy and Germany Reproduction, Acrylic on Canvas 48 x 36" : 2002
---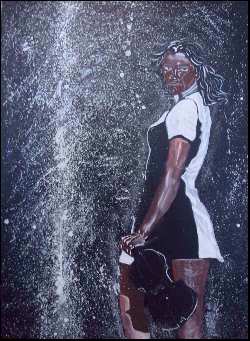 Violinist #2, Acrylic on Canvas 36 x 48" : 2003
---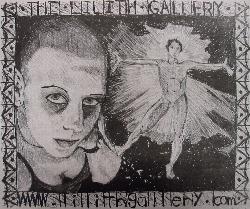 Albion's Androgyny, Ink Lithograph on Japanese Paper 24 x 28" : 2004
---
Charles Alexander Moffat en la Galería de Lilith
Charles Alexander Moffat foi a pintura por um tempo muito longo. Porém deve ser interessante anotar que ao crescer acima, ODIOU pintar. Odiado absolutamente lhe. As escolas forneceram estudantes com a pintura barata e mesmo as escovas mais más. Com tais materiais, a pintura não faria o tipo do detalhe e da perfeição que quis fazer.
Não era até o highschool que descobriu escovas acrílicas da pintura e da alta qualidade, e não até a universidade ele experimenta com a pintura de óleo. Se você comparar a ligação cronológica à esquerda, você pode ver como seus estilo e métodos progrediram com os anos.
Em 1997, o foco preliminar de Moffat estava experimentando com a cor e a linha. Em 1998, isso mudou um tanto a estudar o portraiture, mas ainda a manter um fondness para cores incomuns. As doze caras que pintam em 1998 são um exemplo excelente de sua determinação para estudar o portraiture.
Em 1999, os interesses de Moffat tornaram-se mais figurativos. Teclas de barriga, pés, gargantas, partes traseiras do pessoa e figuras inteiras. 1999 eram também o começo da série do Incarnation de Lilith que continuou em 2000 e nos temas novos spawned a respeito da violência, do sexo, do feminismo, do abortion, e da memória. Começou também experimentar com a fotografia thematic.
2001 entretanto eram um ano muito produtivo. Seu interesse na fotografia cresceu e dirigiu "Nightmares a série na manhã" (e a parte video da arte) na cooperação com a melodia, seguida "pela mostra 2001 Freak do Mirage". Suas pinturas continuaram a progredir ao mesmo tempo, porque também fêz murals e experimentou com o mais "pinturas no ponto"; Suas pinturas são planeadas normalmente para fora pesadamente.
2002 eram um momento da reflexão depois setembro do 11o. História estudada Moffat da arte e gastado muita de sua escrita do tempo sobre artistas e seus meanings históricos. Este interesse histórico entretanto conduziu-lhe criar a reprodução de "Italy e de Germany" de Friedrich Overbeck. Seus retratos do self durante 2002 foram causados estudar de Moffat o que seu estilo é realmente e o que é envolvido em seu processo artístico. A série da análise do Self é mais sobre o processo do que a parte terminada real. No outono Moffat 2002 começado pintar os penises e símbolos phallic (ver "Pacifism" e "a explosão Freudian") para um short quando, o cunning trabalhar sobre o homophobia e o androphobia. Isto continuou momentaneamente em 2003.
Em 2003, re-invented seu estilo com do "pinturas gotejamento e do flick" (para não ser confundido com do dribble do Pollock de Jackson do "as pinturas splatter e") e criou trabalhos como "Untitled #3", "Salmacis na chuva" e "Violinist #2". Fêz também 5 retratos de seu amigo Julie, de que #1 é mostrado atualmente na galeria de Lilith. Moffat movido para Coreia sul em julho 2003 e trabalhar começado em 5 pinturas novas, uma continuação de seu estilo novo do "gotejamento", e aquelas pinturas deve ser em linha disponível alguma hora no futuro. Quando em Coreia, fêz "terra a série fotográfica da paz da manhã", um comentário na beleza de Coreia, mas também a possibilidade da guerra com a Coreia norte se os Estados Unidos continuassem em seu warpath atual da destruição e do caos econômico. Os temas na fotografia inclinam-se para o pacifism e os prospetos da paz & do tranquility.
Em Moffat 2004 pintar continuado e fazer mais fotografia mas também começaram experimentar na arte video. Tem criado desde uma variedade dos videos, incluindo: Do "americanos #2 medo: Controle do injetor" e uma variedade de outros "videos do pastiche-estilo".
Moffat criou estas partes video novas da arte como parte de uma gaiola dos artistas sabida como "artistas unidos do anarquista", embora não fosse um anarquista. É um pacifist devout e concorda com o grupo "somente no princípio" porque sente que os Estados Unidos estão dirigindo abaixo uma estrada da destruição & do ignorance.
Em 2005, Moffat liberou uma parte video da arte da escala muito maior, "inverno nuclear" e continuou do "o estilo gotejamento e do flick" com pinturas tais como "a ninfa canadense da água".
Video:
2005
Crop Signs : 2005 - New Movie, 19 MB
Nuclear Winter : 2005 - New Movie, 45 MB

2004
Bang Bang Wonderful Days : 2004 - YouTube.
Fear Americans #1 : 2004 - YouTube.
Fear Americans #2: Gun Control : 2004 - YouTube.
Fear Americans #3: Oil Economics : 2004 - YouTube.
Fear Americans #4: American Life : 2004 - YouTube.
Fear Americans #5: Wolfowitz War Crimes : 2004 - YouTube.
Fear Americans #6: Fear, Hatred & Stupidity : 2004 - YouTube.
Fear Americans #7: Pinky and the Brain : 2004 - YouTube.
Jack is Too Sexy : 2004 - YouTube.
Kill Bill Daddy Cool : 2004 - 5849 KB.
Merry Xmas 2004 : 2004 - YouTube.
Samurai Jack - Hotel California : 2004 - YouTube.
Samurai Jack Meets Wong Fei Hung : 2004 - YouTube.
Samurai Jack - Stayin' Alive : 2004 - YouTube.
The Last Thing You Feel Bub : 2004 - YouTube.

2001
Nightmares in the Morning : 2001 - 2057 KB.