The Lilith Gallery
Images of Lilith, Historical, Modern and Fantastic
The Religion eZine - Lilith
---
Historical: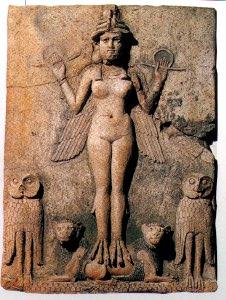 Sumerian/Assyrian Terra Cotta Relief of Lilith:
This is a classic example of Lilith, shown with wings and wearing a multiple-horned mitre, both characteristic of Sumerian portraits of high divinity (much like a halo in Christian art). In her hands she carries farming tools/round wooden knives which are used for planting and sowing crops, but can also double as weapons in times of war.
Bird-feet is typical of most ancient Lilith sculptures and engravings. The lion and owl are sacred animals to Lilith because they are both creatures that feed and protect their young, and do so viciously and without fear. Thus Lilith is also a goddess of protection, in addition to agriculture/fertility. Collection of Col. Norman Colville.
This partially broken statue has been reassembled together by archeologists. It was found in Sumerian ruins, in what is now believed to be a small temple to Lilith. The statue is unique because it is one of very few free-standing statues of Lilith, shown here with bird feet. The statue is worn, but the features are still visible and she appears to stand in a protective and caring fashion.
This is believed to be a Greek or Turkish statue of Lilith, unearthed in what is now modern Turkey. Her wings have been broken off, as have her feet and lower torso.
This baked clay plaque from the Old Babylonian period (2000-16000 BC). It shows Lilith standing on the backs of two goats, which were used primarily for food and milk (and thus symbolic of motherhood). Lilith is again show with bird feet and wearing a multiple-horned mitre as a sign of divinity. Paris, Louvre.
Possibly a fake 'Roman Period' with copy of Burney relief. It was auctioned around the turn of the 21st Century and auction records are kept confidential. Both the owner and the buyer are unknown and the piece has never had its age or authenticity verified. If it is a real Roman lamp, then its possible it was made during the time when the Roman Empire had spread east-ward, taking over much of the middle-east. Furthermore, it bears a startling resemblance to both the Babylonian plaque and the Sumerian relief above.
---
Judeo-Christian - Lilith, Adam & Eve:
The Judeo-Christian version of Lilith frequently compares Lilith with Satan and the snake. It demonifies Lilith, taking away her bird feet and replacing it with a serpentine tail. All of the images below were created during the 1400s to 1500s in Europe, a period which is heavily laced with superstitious gynophobia and misogyny.
The images are NOT based upon the Bible on ben-Sira, but are instead based upon warped versions of the Judeo-Christian myth with a heavier emphasis on Satan and the snake. Keep in mind that at this point in history most people were illiterate and the Christian belief that the snake is Satan had not yet been established.
Sistine Chapel Ceiling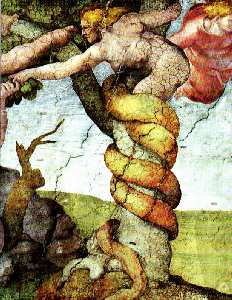 ---
Modern Lilith:
In modern years, Lilith has become an iconic symbol and is often depicted as a succubus, an earth goddess, a sex goddess and a feminist symbol. During 1996 there was a sudden rush in Lilith art, coinciding with the women's music festival "Lilith Fair".
Lilith's Flight, Candice Raquel Lee - 2006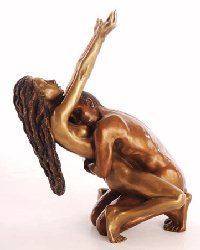 ---
Fantasy, Comic and Erotic: